Other than home, the office is where we spend much of our time throughout the week. If we put as much effort into decorating our office spaces as we did our homes, we might feel a little less cooped up. To get over the cubicle boredom, you can make your workspace your own with simple touches.
If white walls and boxy furniture don't get you excited, why not make the space a little more cozy with your own unique flair?
If you just read that and your first thought was your budget, you're not alone. A simple Google search will reveal that office furniture and workspace decor can be extremely pricey. And if you're bringing in multiple pieces, you'd be surprised how fast they add up. While every home decorating show will make you feel like you have to purchase the higher-end pieces to make your space pop, there is a way to redecorate while still keeping your wallet intact.
Most people don't realize how much their space impacts their mental health and inner sense of peace. Even though an office environment will always carry with it some daily stressors from work, your space doesn't need to contribute. If pricey furniture is going to make you freak out, the first step to zen office space will be finding affordable pieces to use. You never need to feel like those white walls are a prison again because once you redecorate you'll be breathing a sigh of relief every time you come through the door!
Always Price Check
One of the best ways to decorate on a budget is finding the most affordable option for each piece you pick. Did you find a desk you like? Search around and compare prices offered for that desk or similar desks to find the most affordable way to get the perfect piece without sacrificing the aesthetic you're looking for. Amazon has a great variety of office equipment at an affordable price. Even within the website, you can sort results by price to see the options within your budget.
If you can't find the item you're looking for on Amazon, you can always search around websites like Craigslist or Facebook Marketplace to find a gently used option. Often pieces like this can be in like-new condition, but for a radically lower price. Sometimes, you can also find the product in the area you live, so you just have to pick it up and won't need to pay a delivery fee, which can save even more money. Just eliminating a shipping fee can cut the price significantly.
Add Some Greenery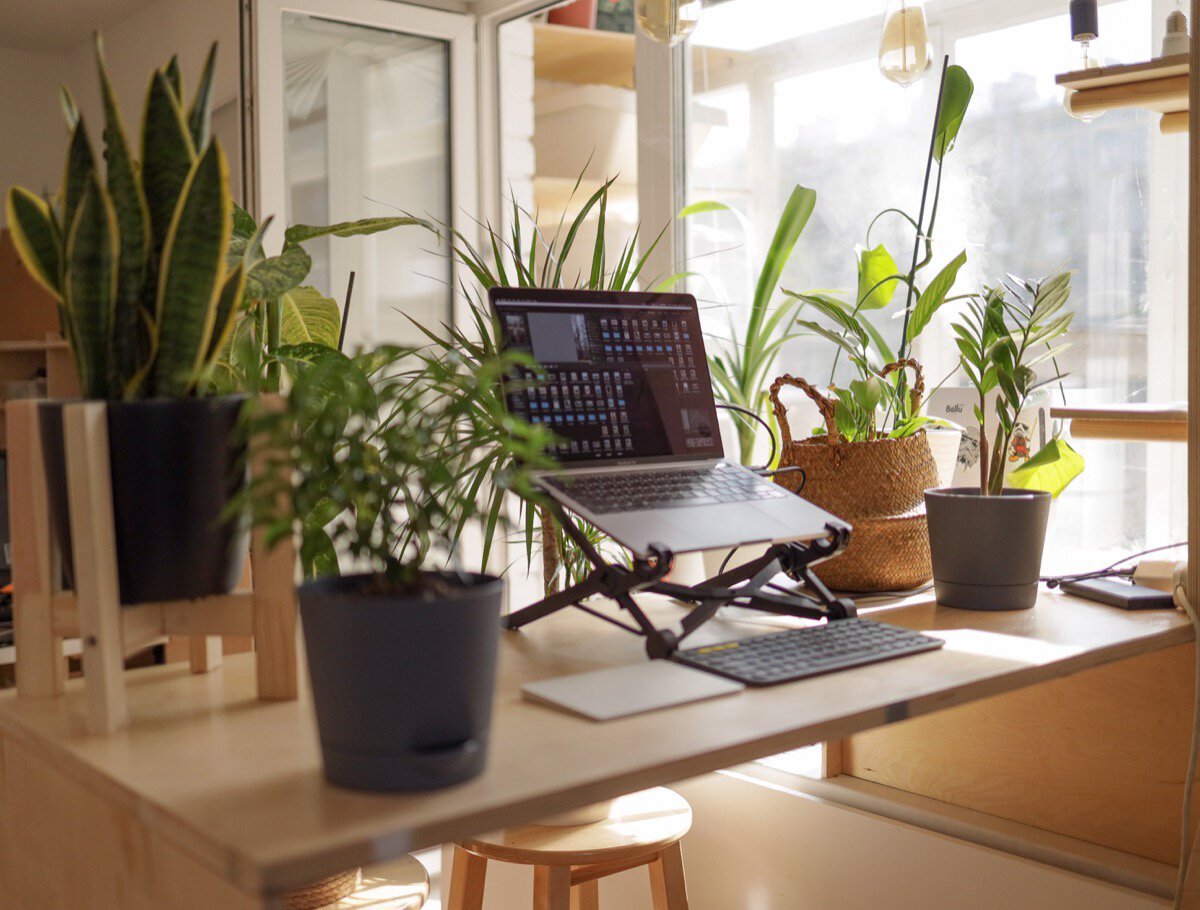 Studies show that our brains work more efficiently when we're in close proximity to nature. Likewise, when we have plants or greenery nearby, we're more likely to be relaxed and have a clear mind. So why not add some greenery to your office setup?
You can always find relatively inexpensive plants at places like Home Depot, Lowes, Ikea, or your local Farmer's Market. Succulents make good office plants because they don't require a ton of water or sunlight. Another fun option could be an air plant. These funky sprouts can survive only on air - they don't need to be planted or heavily watered.
You can even style your plants in a fun pot. Depending on your decorating style, you can find pots that are modern, boho, rustic, minimalistic, or colorful. Any home decorating store like Home Goods or Hobby Lobby offers a wide range of pots in every style.
If maintenance and upkeep isn't your thing, one of the simplest options is to get artificial plants that will stay vibrant and stylish all year long. There are many styles and plant types options, but some of the most versatile are these artificial shrub plants. This listing comes with a pack of four, and they are places in chic planter pots that will give your space a nice touch.
Lighting is Everything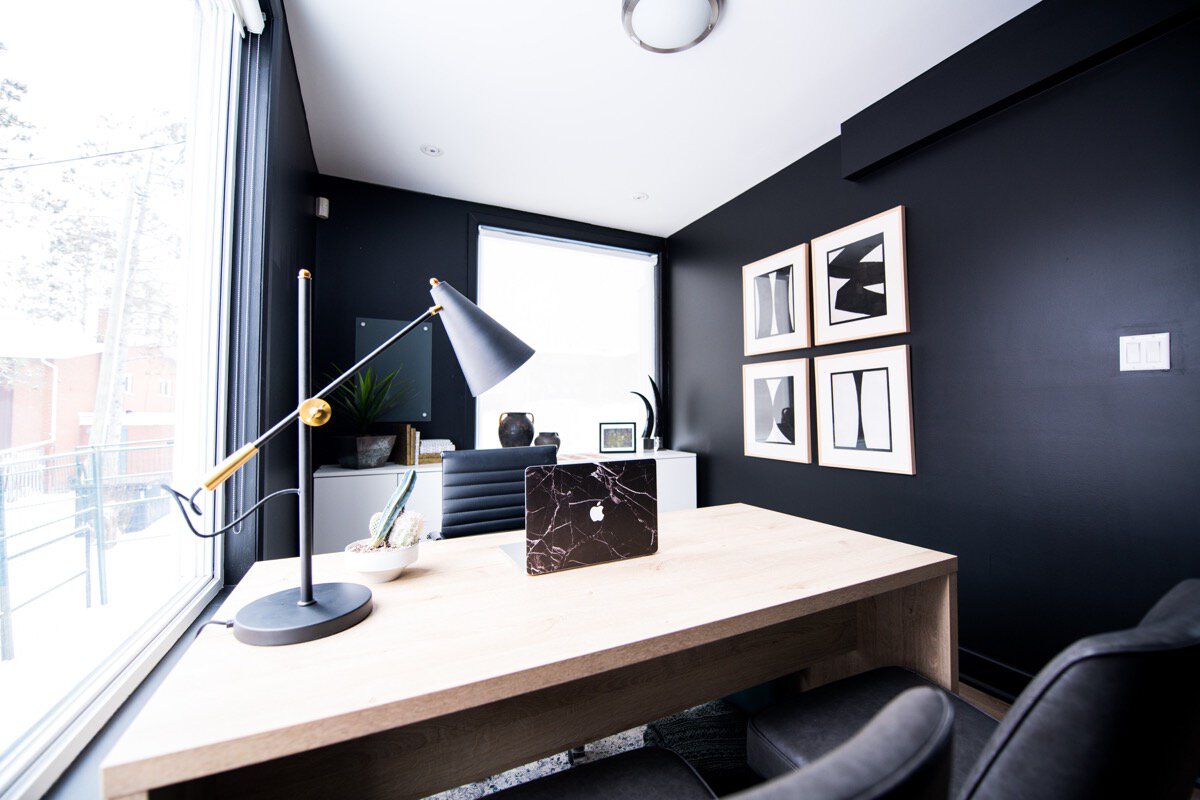 Sometimes the overhead industrial fluorescent lights that come in an office space really don't do anything for your interior design. Instead, they make the room feel sterile and impersonal, and sometimes they're just too harsh. An easy fix for this is to bring in your own lighting. There are hundreds of options, and they don't even have to be expensive.
First, you need to decide what kind of light you need. There are overhead lights, freestanding lamps, and smaller desk lamps. For the most intimate lighting, we suggest a desk lamp that you can adjust to be the right light for you. Getting a lamp that's adjustable allows you to minimize any glare in your computer screen or window.
You can find lamps and lights in a variety of different colors, sizes, and styles to fit your theme. If you're just looking for a basic desk lamp, though, this is one of our favorites. This lamp is not only adjustable but it's got a sleek stainless steel finish that will upgrade your space in seconds.
Keep It Simple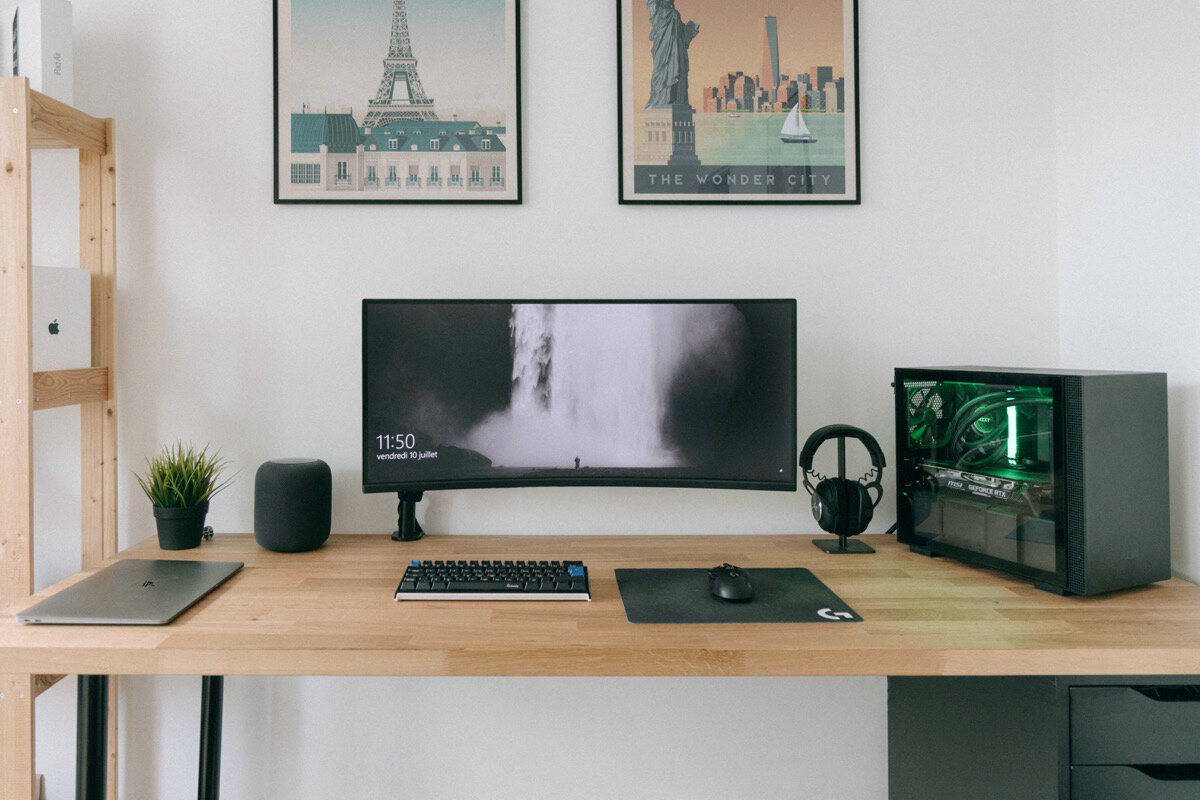 Sometimes decorating on a budget is less about the price point and more about simplicity. For example, do you need the desk chair with all the bells and whistles - many of which you might never use? Or do you need a comfortable chair? Do you need a desk with fancy drawers and hidden compartments, or do you need one with the perfect surface area to fit all your office equipment? Again, keeping things simple will keep them affordable.
One design element that people are tempted to go overboard on is a monitor stand. There are hundreds out there with lifts and buttons and gadgets, and they'll break the bank easily. But if you're just looking for a stand that will keep your computer upright and at the right height, go for something simpler.
Not only will this simplicity save money, but it will enhance your room design. If you have too many products with bells and whistles, the space tends to look cluttered.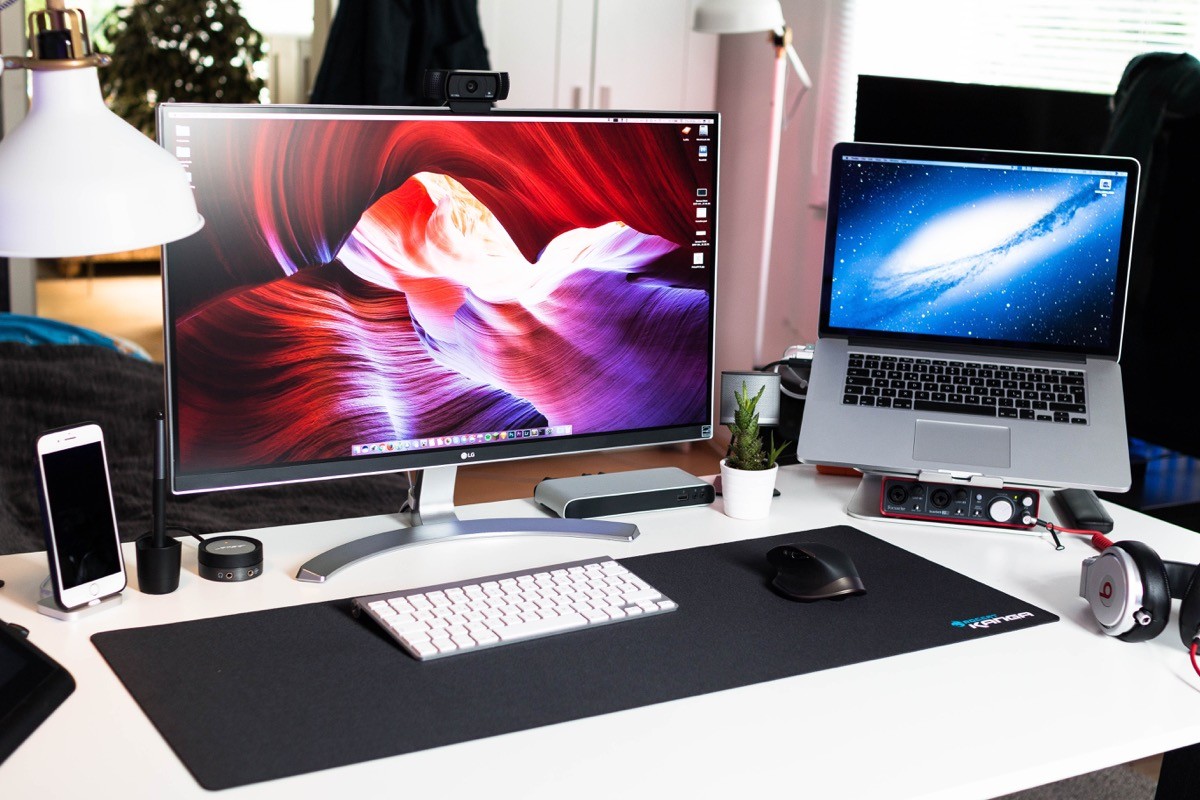 This simplicity also often offers more design options. For example, unlike many upscale monitor stands, this simplistic one is made from faux wood. It looks hip and modern (without even trying) in a way a complicated one never would. This wooden monitor stand is an excellent choice to make your desk space organized.
Practical Over Pretty
As you're decorating your office space, one mistake many people make is choosing office equipment that's pretty but barely functional. Don't do that to yourself! You want every item in your space to serve a purpose so that you are productive and effective at your work.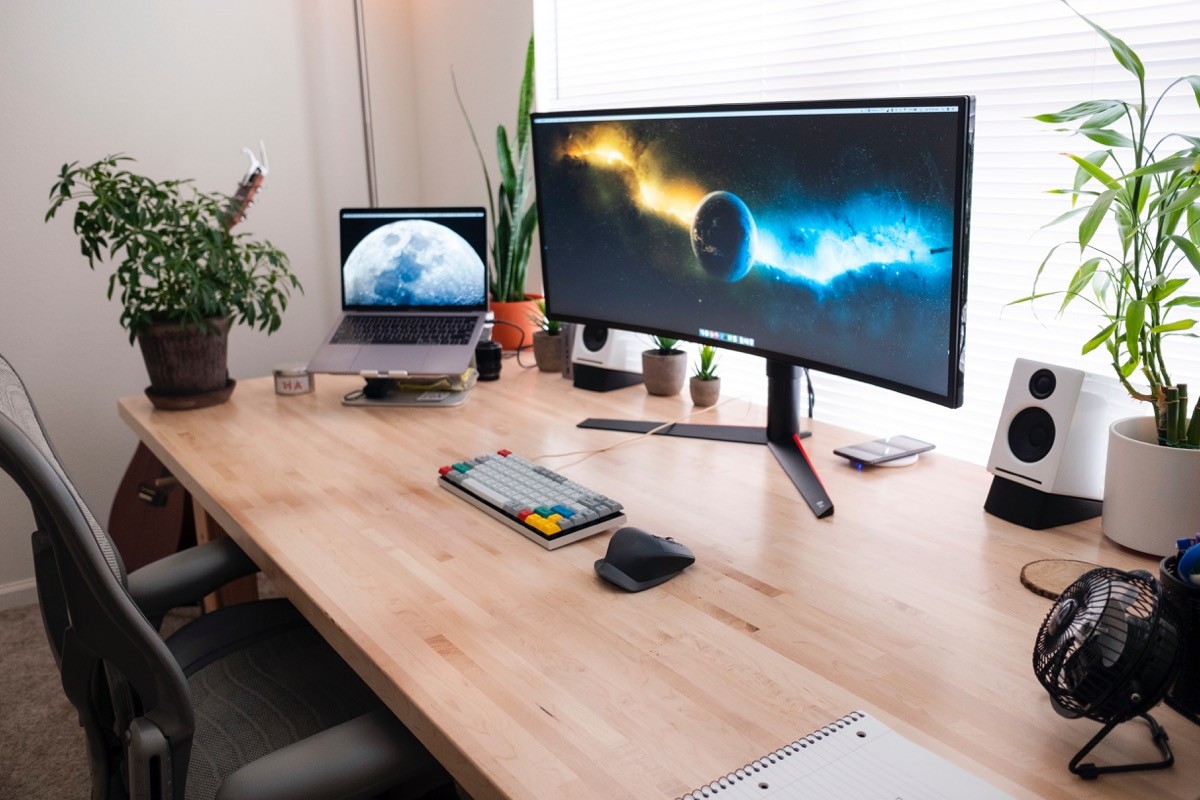 Finding items that are practical and look nice isn't as hard as you think. For example, many office supply stores carry sets with matching staplers, hole punchers, scissors, pens, or paper clips. You can get these sets in all different colors and patterns. These are all items you know you'll use on a daily or weekly basis. But by purchasing a matching set, they'll add to your office aesthetic instead of just looking like clutter on your desk.
To help keep everything in place, another brilliant product to include is this nonslip table mat. You can purchase these in an assortment of different colors to fit your needs, but sometimes a basic black or white is the neutral piece you needed to tie your desk surface together. This mat will protect your desk from spills, keep your keyboard from sliding around, provide support for your wrists as you type, and keep everything where you put it.
Fill In the Gaps
Office design is all about filling in the gaps. Look around and ask yourself: If I could add one or two things that would upgrade this space, what would they be? Is your office flooring dull? Find a cute area rug to put over top. Do your walls feel blank? Hang up a bulletin board or whiteboard to inspire you and help you plan. Find wall art or print out pictures of your family to hang up. If your desk space feels impersonal, stack your favorite books on the side or find fun frames to put your photos in. You can even use contact paper and washi tape to protect your desk surface or decorate your whiteboard with vibrant colors. Find a keyboard cover that fits your vibe, or maybe fill a few jars with colorful snacks to munch on throughout the day. To make your space more relaxing, find an air freshener that you like to make your office come alive.
At the end of the day, this is your office, and you should feel at home in it. There are dozens of ways to add your own flare without breaking the bank. By keeping it simple, prioritizing the things that matter, and filling in the gaps along the way, your office space will be the talk or the town (and your wallet will thank you!)