Input devices, such as keyboard, mouse and touchpad are very important in terms of computer ergonomics. I recommend choosing the ergonomic input devices very carefully. These are the main tools with which we physically interact while working at the computer. And the overall comfort of work depends on the comfort of this interaction. Input devices should not only be ergonomic, but also functional and aesthetic. I created a list of the best ergonomic keyboards for Mac in 2021. Let's have a look.
Ergonomic keyboards that have a division of the keys into two blocks - for each hand, are very comfortable. These blocks should be rotated. The position of the hands on such blocks is more natural, which significantly reduces the pain in the wrists.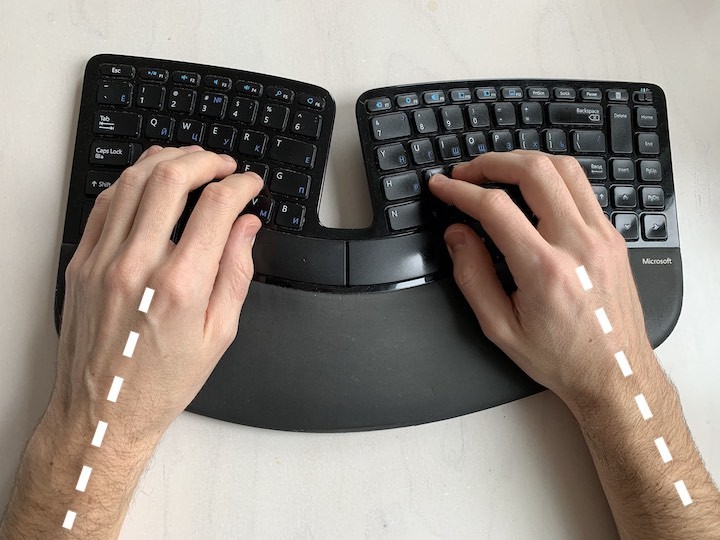 The next important thing is the presence of a wrist rest pad. Pay attention to the pad material - it should be pleasant to the touch. The height of the buttons is also important. The smaller the height is, the less effort it takes to press. And also pay attention to the keystroke softness. And one more important parameter is the presence of a wireless interface. This is especially important if you like working in different positions. Get rid of cluttering wires!
Important note. If you have not already mastered skill of ten-finger blind typing, it's never too late to learn how to. You can spend only a couple of weeks of some time every day and the result will not make you have to wait. If typing did not bring you joy before - then after comprehending this method you will type the texts with pleasure, with greater speed and with fewer errors. Here are some convenient online simulators:
In fact, there are not so many of good ergonomic keyboards models suitable the above criteria. Here is my top-4:
1st place: Microsoft Sculpt Ergonomic
The model is almost identical to Microsoft Surface Ergonomic, but more compact due to the separate number pad. In fact, this pad is not so often used. Most often it is used if you need to enter a lot of numbers in applications such as a calculator or Excel. I think that it's a big plus. People who enter many numbers will be able to choose the right place for it on the table. Others can refuse it altogether. I personally barely use it. But the benefits of a compact keyboard is undoubtedly greater. The keyboard is designed primarily for working with Windows, but also works fine with the Mac.
2nd place: Logitech Ergo K860 Wireless Ergonomic Keyboard
To enrich your comfort & typing posture, here comes our 2nd choice, "Logitech Ergo K860 Wireless keyboard." It's a great Ergonomic Keyboard for Mac.
Logitech has finally produced an ergonomic keyboard after a long period of development. When it comes to unibody designs, Microsoft and Fellowes have a lot to learn from Logitech's Ergo K860.
Logitech Flow allows you to move between two devices after pairing. Furthermore, the K860's design, despite having a high curve, seems muted, making the intimidating process of transitioning to an ergonomic keyboard seems a bit less demanding.
As I like to describe it, the Ergo K860 is a "soft split" keyboard. There's a triangular space between the sets of keys for your left and right hands, so you don't have to strain your shoulder blades to force your arms or wrists together.
So that your fingertips don't have to be forced to rest flat on the keys, the center of the keyboard slopes upward as well.
Moreover, there are fewer rotations, stretches, and other unnatural motions that might damage you in the long run, even if you don't notice them every day. Despite some drawbacks, it is one of the best ergonomic keyboards for Mac in 2021.
WHAT WE LIKE:
Ergonomic design: curved and split
The wrist rest is really comfortable
Negative tilt is provided by the front feet
Extended asymmetrical keys
Support with Logitech Options and Flow applications
DRAWBACKS:
The keys are a little dispersed.
There is no backlight.
Has a much larger footprint than you may imagine.
3rd place: Microsoft Surface Ergonomic
Excellent wireless keyboard with a small height of keys and a convenient wrists rest pad. It does not differ much from the model that took first place, but lost to it due to a slightly larger size and due to the number pad presence.
4th place: Microsoft LXM-00001 Ergonomic Keyboard
We recommend the Microsoft Ergonomic Keyboard-LXM-0000 if you want superior ergonomics than a regular keyboard and do not want to spend a lot of money.
The Microsoft Ergonomic Keyboard delivers lots of typing comfort in a beautiful design, as well as a complete selection of shortcut keys, in addition to relieving wrist tension.
If typing comfort is important to you, there are two primary types of keyboards you should consider. Ergonomically built keyboards like the Microsoft Ergonomic Keyboard push your arms, wrists, and hands into a posture that might reduce strain and damage.
Despite the fact that this keyboard has been around for years in numerous incarnations, productivity enthusiasts should take a careful look at the latest edition. Ergonomically appropriate, it provides a superior typing experience.
WHAT WE LIKE:
It's a joy to type with the LXM.
An elegantly designed product.
The wrist rest is quite comfortable.
The tilt may very well be adjusted.
Several shortcut keys, screenshots, and emoji keys attached.
DRAWBACKS:
Productivity might be hampered by a steep learning curve.
Windows 10 S Mode does not support some software programs.
5th place: Kinesis Gaming Freestyle
Comfortable ergonomic keyboard divided into two blocks for those users who love mechanical keyboards. Many users prefer this particular model. It has reliable buttons mechanisms.
Of the shortcomings, I would note the high price and unusual location of the keys. It takes time to get used to such a layout.
Do you want to know what is ergonomics in a computer in general? Read more on our site: ZenWorkPro.com