Do you ever feel like back pain end of the working day? Do you discomfort while using laptops and unable to maintain proper posture? Do you wish there was a way to improve the ergonomics and wellbeing of the workplace?
If you recognize all of these symptoms, you can need a lumbar support cushion. Where should my lumbar support be? Continue reading to find out more about these cushions and where to put lumbar support in your office chair.
Is Lumbar Support Beneficial?
An ergonomic chair is a must-have for a sit-stand workstation. When considering ergonomic office chairs, we often consider whether we should change the seat width, whether or not we can adjust the chair's height (while keeping our feet flat on the ground), and even how much weight the chair can bear.
A lumbar back brace promotes proper posture by essentially filling the distance between the lumbar spine and the seat, thus reinforcing the lower back's normal inward curve. In the office chair, it is common to slouch and lean forward.
However, the main idea of buying an ergonomic chair is the lumbar support. Today, we'll go through all of the lumbar support fundamentals you'll need to remember when optimizing your office chair.
If You just want to relax a bit without a computer then You can have a look at 5 Best Modern Recliners
What Exactly Is Lumbar Support?
Before we get into how to place your lumbar support cushion, let's first define lumbar support. The lumber part of our back is the sensitive portion of the body. That is the section of your spine that bends in before extending back towards your tailbone.
Lumbar support is intended to support your spine by conforming to the curve in your back. It blends into the low back curve and rests flush against the back of a chair or bench. This will help ease strain and pressure on your back muscles, allowing them to regenerate and strengthen.
Where Should My Lumbar Support Be?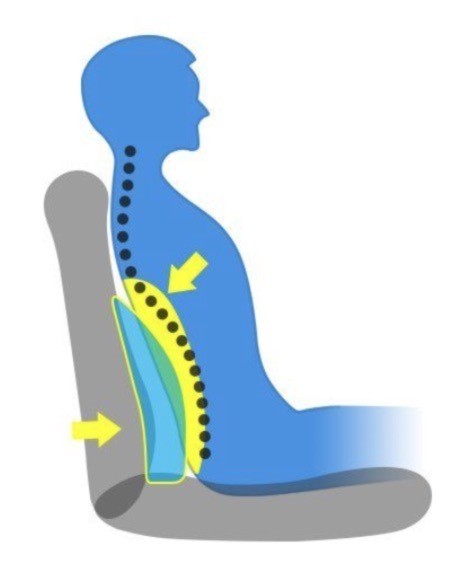 When shopping for an ergonomic chair, most people opt for adjustable lumbar support. The positioning and proper adjustment of the lumbar support are just as critical as its inclusion.
The lumbar assist in the usual curve on your spine should be located directly above your belt line. This modification is often added to the chair to simultaneously alter both the back and the lumbar support's height.
It's an individual change in some seats. Because everybody's physiology is different, it's no wonder that lumbar support roles will look different for everyone.
There is no ideal lumbar support or height for your chair; instead, investing in a height-setting and depth-setting chair may be the best option. It enables you to adjust your chair to the ideal posture and provides you with adequate lumbar support.
A lumbar support pillow in your office will help ease back pain and strengthen your posture. However, understanding where to put lumbar support is important for optimal use. Change the remainder of the setup to suit it between your shoulder blades and hips.
If you want to learn more about resources to help you live a pain-free life, please visit our website
Zenworkpro.
How To Place The Lumbar Support Pillow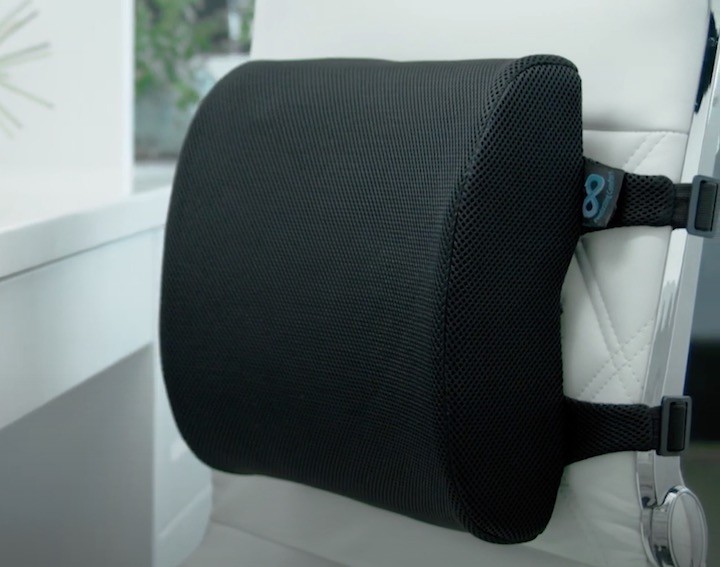 The first move is to set the lumbar pillow to the right place of your chair when you're about to use it. Install the arched edge down, and then place the pillow so that the smooth side is on the chair's back.
It would be best if you placed your lower pillow at the top and top of your hips. You will have to experiment here to determine the best spot for you. This is a couple inch off the seat of your chair. If there are straps in your lumbar support to secure it, adjust them.
Factors to Look For In A Lumber Support
When looking for a lumbar pad, there are a few items you can look for. Check if it has an easy to clean removable cover. You would also like something breathable that will not get too hot when you lean on it during the day.
Above everything, make sure that your lumbar support pillow is made from memory foam. However, your lumbar area will be better supported by a memory foam pad to cure and stabilize it.
What is the importance of lumbar support?
If the lumbar has a long duration of pain, weak balance, and over time tension, this can lead to nerve pinches, inflamed muscles, tendons and other long-term body effects.
The lumbar support your upper body but does more than this!
It provides twisting and side-by-side torso motions
It protects the nerve road up and down your back
It regulates the legs' movement and feeling
Help you to maintain a healthy body
Reduce the daily stress
But if you have to wait for long periods for your career and everyday work, make sure you try to find opportunities to better your role and your position. One more thing to follow - leave your bad habits.
Who Requires Lumbar Support?
The lower back has to be supported to do its job pain-free. Not just the muscles but also the spine. If you damage the lower lumbar or are under constant stress, pain and rigidity can occur. In time, it can be hard to walk or even paralyze.
People with acute or chronic back pain
Musculoskeletal disabilities affected People (joint and bone pain)
Anybody who has a long time in a chair (desk workers, bloggers, gamers)
Office chair owners have no lumbar assistance
People who expends a lot of time sitting on a chair for their official desk job
Summing-Up
It is now recognized that so much lumbar assistance is harmful. People come in such diverse shapes and sizes that a seat with definite curves is not suitable for all. Be careful of a seat that pushes the back into an excessive lordosis or curves forwards.
When your lower back and chair do not support your chair, try inserting a rolling towel or soft clothes. Try to sit in the whole chair so that the rolled comforting your spine. You can also use ergonomic chairs for ultimate comfort and premium performance.
Some chairs have an adjustable lumbar support which is pretty useful.
Are you still looking for a good ergonomic chair? Check this article:
The best chair for long hours at the computer.